Wireless Fire Alarm Systems – Innovative, Effective and Efficient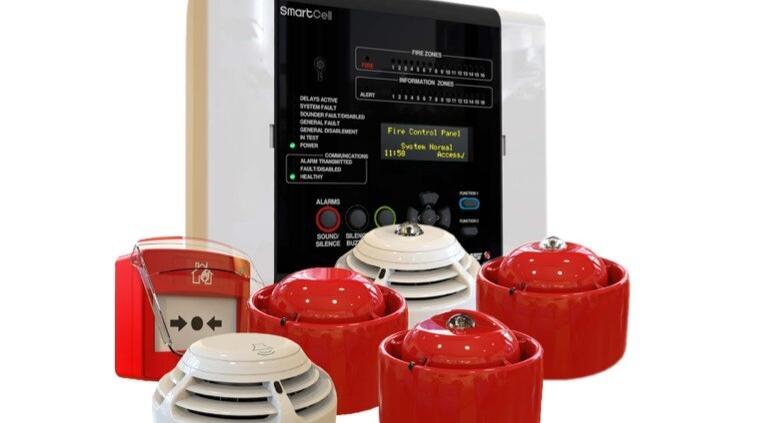 With easy installation, effective fire detection coverage, and brilliant flexibility, whether you need a new fire alarm system installing or an existing fire alarm system enhancing/ extending, Wireless Fire Alarm systems are a fantastic option for your fire alarm system. Protecting people and property efficiently and cost effectively.
What are Wireless Fire Alarm Systems?
As the name states a wireless fire alarm system has no wires. The innovative system transmits a radio signal from the call points and smoke/or heat detectors to the fire alarm's control panel. As a user of a wireless fire alarm system, the system will work and look exactly the same as a hard wired system, if you spot a fire you break the call point glass or the system detects smoke/ heat, the detector sends the alarm signal, the system detects the alarm condition, raises the alarm, and also indicates the location of the fire via zone text. Plus an individual device text description.
So the fire safety procedures are all the same, the system just sends the signal via radio frequency rather than a hard wired signal activation.
Why Choose a Wireless Fire Alarm System?
Wireless Fire Alarm Systems are ideal for fire alarm systems for many situations.
Wireless means quick installation
No wires mean minimum disruption
No wires allow installation for areas of structural sensitivity, Heritage Sites, Listed Buildings or where minimum disturbance is required, Care Homes, Clinics, hospitals etc.
Flexibility to extend existing Fire Alarm system – see Case Study
Wireless Fire Systems are ideal for protecting buildings during construction as they can be adapted as the construction develops
Great to use where access is difficult but still need Fire Protection
Wireless Fire system can work without mains power
As efficient and reliable as hard wired Fire alarm systems but can be fitted with minimum disruption
The layout or addition of devices can be updated if the building is extended or the use of rooms and need for fire detection, smoke/ heat changes, so extremely flexible
What is the advantage of Wireless Fire System?
Wireless fire detection and fire alarm systems have proven to be an important, flexible solution for business owners, commercial premises, care homes, architects, residential developments, property developers and much much more…..
Wireless Systems take minimum labour to install, with a 30-50 device system taking 2 men only 1-2 days to install. Similar installations of wired systems would take 2-4 weeks to install, therefore a Wireless Fire System is ideal where time and disruption are limiting factors
Wireless fire alarm systems are fast becoming the ideal solution for Fire Alarm system installation due to the easy installation, the enormous flexibility and endless combinations of wireless devices, they are also a fantastic method of expanding and enhancing existing hard wired fire alarm systems.
Minimal Disruption, Rapid Installation
Wireless Fire Alarm Systems are ideal for fire alarm systems requiring a quick installation. These fire alarms require no cables installing between the panel and devices. This also means that the decoration within the building does not need to be affected during the installation process.
What types of Wireless Fire Alarm Systems are Available?
At Fire Queen we use a range of systems depending on the specific needs of the premises/ building. Following a Fire Risk assessment, we were asked to carry out a survey at the Coppice for Select Retirement Services. The outcome was to install an EMS Addressable Wireless System, you can read the Case Study here
EMS SmartCell is a fantastic Flexible system with some excellent features.
is the UK's number one developer and manufacturer of wireless and hybrid fire detection products.
SmartCell has been designed as a complete wireless fire detection system to protect people and property. The system incorporates separate information zones which allow input devices to be configured in multiple configurations, providing maximum flexibility to the user and designer. In the event of an alarm, the system detects the alarm condition, raises the alarm, and also indicates the location of the fire via zone text and indication along with an individual device text description. The system also supports remote connectivity for alarm routing and remote services. The system can:
Activate other building systems
Raise alarms locally via sounders
Raise alarms remotely via integrated or external communication modules
Call the fire and rescue service
Raise information alert events from wireless input devices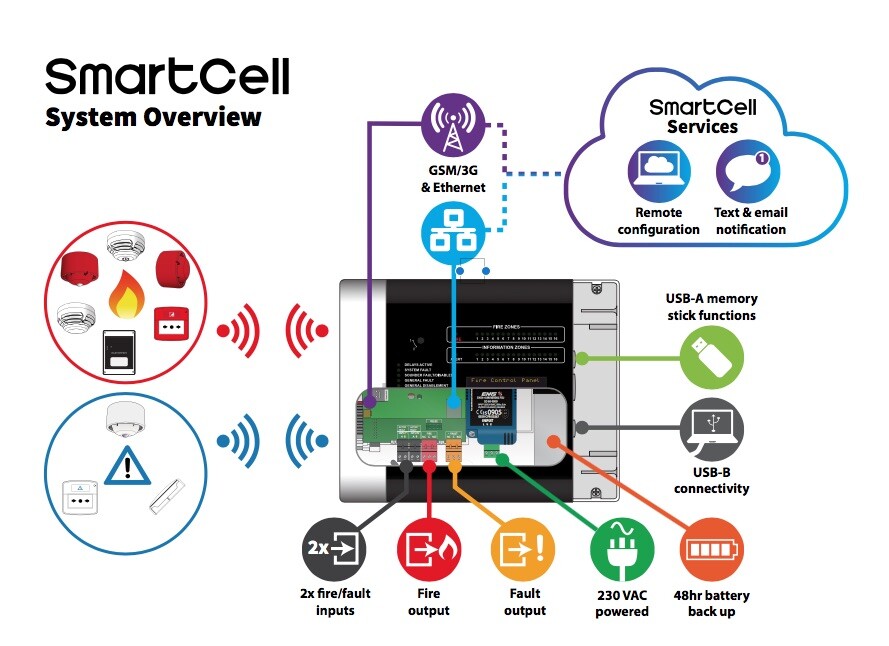 The Wireless Control Panel is the main component part of the wireless fire protection system. Various devices can connect to the system, these include:
Manual Call Points
Sounders, with or without Beacons
Dual Smoke and Heat Detectors with or without Combined Sounders and Beacons Dual Input/Output Devices
SmartCell systems can support up to 64 wireless devices with a maximum of 32 wireless fire detection devices.
Also 230 VAC and 24 VDC powered wireless control panels are also available.
Communication between Devices and the Control Panel is bidirectional and operates in the European harmonised 868 MHz frequency band.
The Control Panel allows full Cause and Effect programming with two on-board relay outputs available. A communications module may also be fitted allowing remote configuration, plus text and email notifications. Alternatively, information can be passed directly to an Alarm Receiving Centre (ARC). Additional equipment may be required.
All SmartCell wireless devices, including sounders are battery powered and do not need to be included in the loop loading calculations.
Information devices can also be added to the system. When triggered, information devices generate information alerts at the SmartCell Control Panel.
Upon an information alert event, details will be displayed on the Control Panel's OLED display and the Control Panel's buzzer will sound. The SmartCell control panel can also trigger SmartCell wireless information sounders and/or notify the user via text or email notification.
Typical applications include the monitoring of doors (opening/closing), a loss of power to your fridge, flood detection and an alarm condition on your intruder system.
With significant time saving against conventional and addressable fire system installations, no cables, no mess and no inconvenience to everyday business, SmartCell is perfect for all small to medium sized businesses.
If you're looking to install a new Fire Alarm System or need to enhance or extend your current Fire Alarm System contact Fire Queen now
https://www.firequeen.co.uk/wp-content/uploads/2021/05/Wireless-Fire-Alarm-Systems.jpg
618
773
FireQueen Fire Extinguisher Servicing, Fire Alarm Servicing
https://www.firequeen.co.uk/wp-content/uploads/2022/09/firequeen-Fire-Extinguisher-Service-and-Maintenance-logo_large.jpg
FireQueen Fire Extinguisher Servicing, Fire Alarm Servicing
2021-05-11 12:50:40
2021-11-03 10:46:33
Wireless Fire Alarm Systems – Innovative, Effective and Efficient